Concrete Plant Has All Kinds of Facilities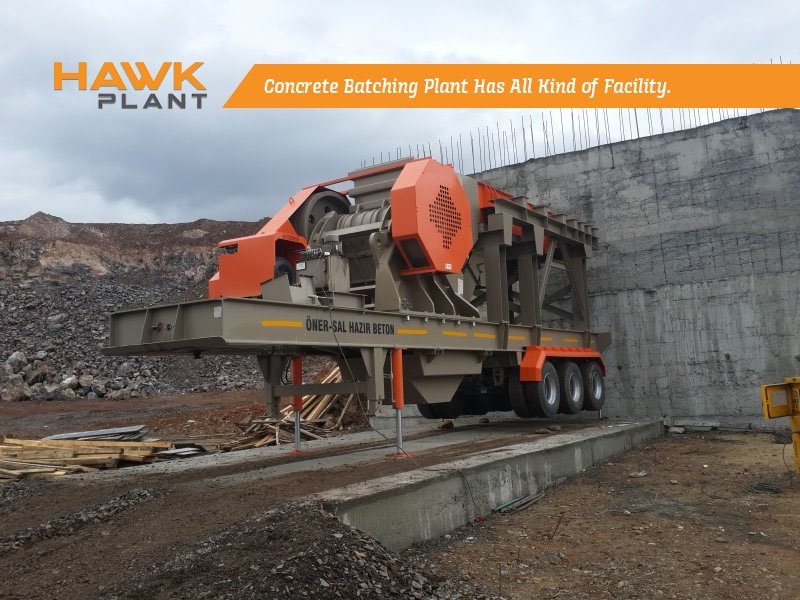 Concrete Batching Plants are designed to produce ready-mixed concrete. Make concrete with this type of systems so easy and fast. All requested material mixing in these systems successfully. Most of time erecting out of city centres. Type and models decide for request. It can be many different capacities. For production high technologic equipment's are using. A concrete batching plant aggregate bins, transfer conveyor, main case, mixing section, cement silo and automation unit include. After erection of the plant to operate it is so easy and user friend systems include.
To Make Concrete With Concrete Batching Plant
Main duty of concrete batching plant is make concrete. Steps of it like below. Concrete batching plants types are stationary, mobile and compact;
To make concrete some materials are base: Cement, Aggregate, Water and admixture.
Those material quality is effect final product quality.
Some laboratory test is necessary to decide of concrete classification. We decide receipt of concrete after test results.
Operator starts to manufacturing with by computer assist.
Weighing is applying all materials.
After that all material charge in to the batching mixer
Approximately 30 sec. mixing process complete.
What is the type of concrete batching plant?
Compact Type Concrete Batching Plant, Limited space clients are choices this type of plants. System is minimized body.
Mobile Concrete Batching Plant It is movable. This type of plants prefer for out of centre projects.
Dry Concrete Batching Plant This type of plants are prefers for low quality and high demand projects.
Stationary Type Concrete Batching Plant If you are think long term production you have to prefer this type of plants.
Your project choice right type of plant at the same time low investment cost.