Mobile Batching Plant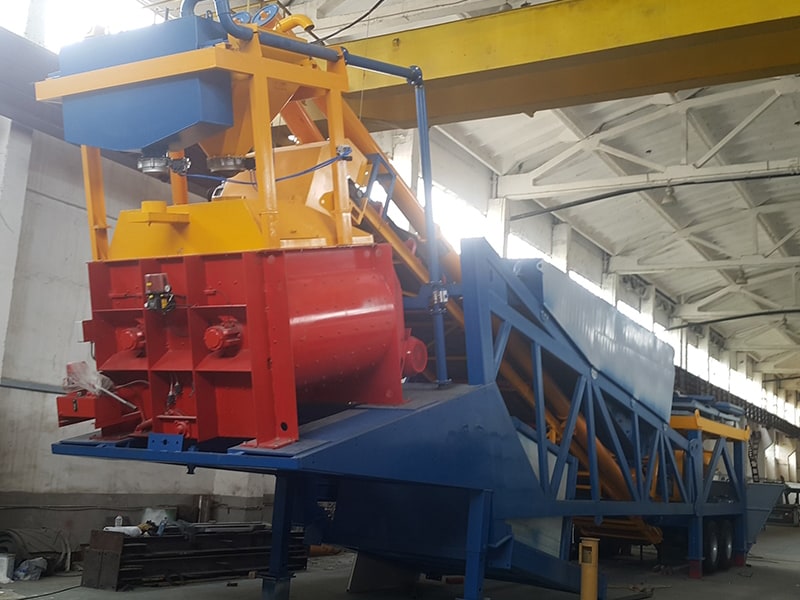 The main unit of mobile batching plants is designed and installed on a monoblock chassis which is equipped with axle and tires. Thus it can be easily transported by towing by a truck trailer. Thanks to its preassembled structure, mobile batching plants can be installed in a very short period of time (1-2 days) on a simple concrete foundation and get easily ready for concrete production. Mobile batching plant provides fast and easy installation (1-2 days). Transport is cost effective. It gives the receiver a chance to move quickly and easily. The installation cost is minimum. Does not require special installation permission. Due to the special design, it can be installed on a confined space. Other advantage of mobile batching plants is quick and easy jobsite relocation. Mobile concrete batching plant with running system is special construction concrete equipment designed independently by many companies. It can be installed quickly on site. This batching plant integrate mixer, batching system, running system, feeding system, weighing system, cement silo, screw conveyor and all the necessary equipment into together, installing on a transport chassis.
What are the features of mobile concrete plants?
There are two types of models. One of them is a single chassis and the other is a double chassis..
It is remarkable with its capacities ranging from 30 cubic meters to 120 cubic meters..
A suitable batching mixer works with a mixer.
Makes production extremely fast.
Since it is mobile, it can be moved to another area at any time..
The automation system is extremely simple. Possible to use after a short training.
Sellers provide installation and transportation services. Mobile concrete plant prices are not very expensive. It provides a great advantage to the company with its easy handling feature. A single container or a single hammer will be sufficient to carry. Energy costs are low. Designed in a bucket. The stationary concrete batching plant is the largest concrete producing center. There are three different models known as compact, dry and fixed. The design varies according to the customer's request.