Suitable for Production of Concrete Batching Plants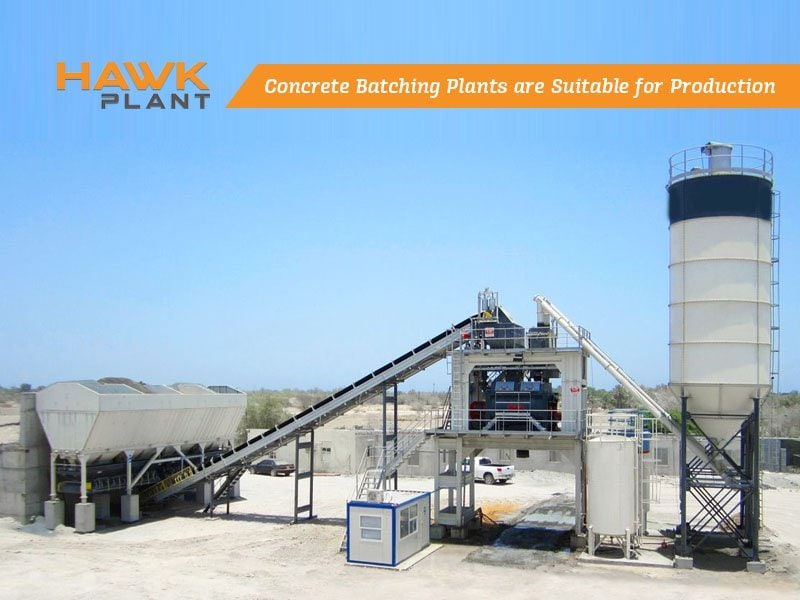 The concrete batching plant is a name given to all of the facilities established to produce large quantities of concrete. In the power plant; weighing band, mixer feeding belt, bunker, bucket, concrete mixer, cement silos. Before producing concrete, the quality of the material is checked first. Various experiments are performed. After that, the production phase is started. Mixed materials include cement, additives, water, aggregates. Pebbles can also be added from time to time. The concrete batching plant, which runs through a formula, produces a fast and technology based production at this point. There is no possibility of error. It is purchased by concrete manufacturers according to different types.
How Many Different Concrete Plants Are There?
The most reasonable facility for a narrow working area is known as a compact type concrete batching plant. When we look at the cost, we see very low prices. Installation features do not force firms. It is put into service soon. It is managed by an operator. It is possible to use anywhere in the world. The resort is very efficient.
Dry type concrete batching plant is a remarkable facility with varying tonnages. Used to produce ready-mixed concrete. It is extremely affordable. It is especially preferred in dam constructions. The mixer is completed in a truck with the help of a mixer. There was no difficulty in using it. It's very practical. Transport is carried out smoothly and easily.
It is also necessary to mention the plant as a stationary concrete batching plant. It works with both fast and high efficiency. It is ideal for projects that will last for many years.
The mobile concrete plant can be transported in a very simple way. It can be installed in any desired location. Used for small jobs. It produces concrete very quickly. It has superior technology. Transport is very simple. The use of concrete in the installation process is not the case. Its efficiency is very good. Can produce fast and high quality concrete. Capacity varies.
Concrete Plant Installation
Concrete batching plant installation is very easy with us. After the sale process, we act in accordance with a special plan. Of course, we continue our activities according to the location of our customers.